Introduction
According to recent findings from Ruler Analytics, 91% of marketers prioritize lead generation as their top objective. Lead generation has become a multifaceted challenge in today's fiercely competitive landscape, where information overload is the norm.
Marketers are compelled to adopt new strategies and embrace new-age technologies to stay ahead of the curve and secure valuable leads. In this data-led era, the quest for effective lead generation demands constant adaptation and innovation. Lead generation plays a pivotal role in driving growth and success.
As companies strive to outshine their competitors, they increasingly use process-driven Customer Relationship Management (CRM) solutions to enhance their lead-generation efforts. A robust CRM system is a powerful ally, empowering businesses to streamline their processes, foster stronger customer relationships, and ultimately fuel their lead generation.
By leveraging the advanced capabilities of a well-implemented CRM, companies can efficiently manage leads, track customer interactions, and execute targeted marketing campaigns.
This article will explore the top five ways CRMs revolutionize lead generation, providing invaluable insights into how businesses can unlock their full potential and achieve exceptional results.
Lead generation is a strategic process that enables businesses to identify, attract, and engage potential customers, known as leads, who have expressed interest in their products or services.
This process involves several steps and methods to capture the target audience's attention and nurture them until they are ready for conversion. Here is a breakdown of the lead generation process:
Getting Started with AI powered CRM Software has become easier than ever.

Book a free demo for your enterprise AI based CRM today.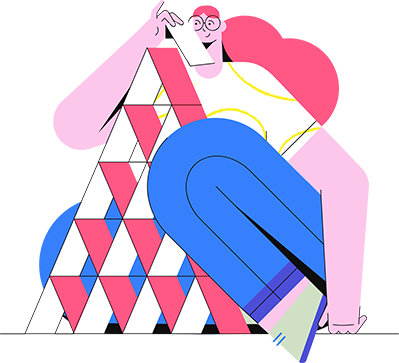 The first step is to define the ideal customer profile and target audience based on demographics, interests, behaviors, and other relevant factors. Understanding the target audience helps tailor marketing efforts and messages accordingly.
Comprehensive market research helps identify market trends, competitor analysis, and customer preferences. This information enables businesses to position their offerings effectively and develop compelling marketing strategies.
Creating valuable and informative content is crucial for attracting leads. This includes blog posts, e-books, videos, infographics, webinars, and other resources that address the pain points and challenges of the target audience.
Landing pages are designed to capture visitors' interest and encourage them to take a specific action, such as filling out a lead capture form. The form collects essential contact information from leads, allowing businesses to follow up with them.
Optimizing online presence through search engine optimization (SEO) techniques helps increase visibility and organic traffic. By utilizing relevant keywords, businesses can attract potential leads actively searching for related products or services.
Leveraging social media platforms allows businesses to engage with their target audience, build brand awareness, and promote content. Social media advertising and community engagement can generate leads and drive traffic to landing pages.
Paid advertising, such as pay-per-click (PPC) campaigns, display ads, and sponsored content, can help businesses reach a wider audience and drive targeted traffic to their lead-generation assets.
Lead Magnets and Incentives
Offering lead magnets, such as free e-books, templates, or exclusive access to valuable resources, incentivize visitors to provide contact information. These incentives increase the likelihood of lead conversion.
Captured leads are nurtured through email marketing campaigns. Personalized and targeted emails help build relationships, provide valuable information, and guide leads through the sales funnel.
Analytics and Optimization
Tracking and analyzing lead generation efforts is crucial for measuring success and identifying areas for improvement. Analytical tools provide insights into lead sources, conversion rates, and campaign performance, allowing businesses to refine their strategies.
Why Do You Need a CRM For Lead Generation?
As you know, the Internet has created a digital world where data is abundant, and business operations are becoming increasingly complex. A CRM (Customer Relationship Management) system is essential for effective lead generation. Here are some key reasons why businesses need a CRM for their lead-generation processes:
Centralized Data Management
A CRM allows businesses to store, organize, and manage all customer data in one centralized location. This eliminates the need for scattered spreadsheets or manual tracking systems, ensuring data accuracy and consistency. With a CRM, businesses can access valuable insights and leverage data-driven strategies for lead generation.
Efficient Lead Tracking
A CRM enables businesses to track leads throughout the entire customer journey. From initial contact to conversion and beyond, businesses can monitor interactions, engagements, and follow-up activities with leads. This visibility helps optimize lead nurturing efforts, identify bottlenecks, and ensure timely and personalized communication.
Enhanced Lead Segmentation
With a CRM, businesses can segment leads based on various criteria, such as demographics, behavior, interests, and engagement level. This segmentation allows for targeted marketing campaigns and tailored messaging, increasing the likelihood of capturing qualified leads and driving conversions.
Automation and Workflow Streamlining
CRM systems offer automation capabilities that streamline lead generation processes. Tasks such as lead assignments, follow-up reminders, email marketing automation, and lead scoring can be automated, saving time and ensuring consistent and timely actions. This enables businesses to focus on high-value activities and optimize lead-generation efforts.
Collaboration and Communication
A CRM facilitates seamless collaboration and communication among team members involved in lead generation. Sales and marketing teams can easily access and share lead information, communicate progress, and align strategies. This promotes efficient teamwork and ensures a cohesive approach toward generating and nurturing leads.
Analytics and Reporting
CRM systems provide powerful analytics and reporting features that offer deep insights into lead generation performance. Businesses can track key metrics, measure campaign effectiveness, and identify areas for improvement. Data-driven analytics enables businesses to make informed decisions and refine their lead-generation strategies for better results.
Scalability and Growth
As businesses grow, managing leads manually becomes increasingly challenging. A CRM provides scalability, accommodating the expanding lead database and evolving business needs. It ensures that lead generation processes can scale with the growth of the business, supporting sustained success.
Top 5 Ways CRM Can Help Your Business In Effective Lead Generation
Effective Marketing Campaigns:
A CRM empowers businesses to create and execute effective marketing campaigns for lead generation. By leveraging comprehensive customer data, businesses can segment their target audience, personalize messaging, and deliver targeted campaigns across multiple channels.
With a CRM, businesses can track campaign performance, monitor customer responses, and make data-driven adjustments to optimize campaign effectiveness. This enables businesses to reach the right audience with the right message, increasing the chances of generating quality leads.
Omnichannel Interactions:
A CRM enables businesses to engage with leads through various channels, providing a seamless omnichannel experience. Whether email, social media, website, or phone interactions, a CRM consolidates customer communication history, ensuring consistent and personalized interactions across channels.
This allows businesses to nurture leads at every touchpoint, building stronger relationships and increasing the likelihood of lead conversion.
360-Degree View of Data:
A CRM is a centralized repository for comprehensive customer data, providing businesses with a 360-degree view of their leads. It captures and stores valuable information such as contact details, demographics, interactions, preferences, and purchase history.
This wealth of data enables businesses to understand their leads better, tailor marketing efforts, and deliver personalized experiences. By leveraging comprehensive data, businesses can make informed decisions, identify high-potential leads, and devise targeted lead-generation strategies.
Empowered Lead Tracking:
With a CRM, businesses can effectively track leads throughout their journey, from initial contact to conversion. A CRM system enables businesses to capture and organize lead information, track lead interactions and engagements, and assign follow-up tasks to team members.
This streamlines lead management and ensure that no leads slip through the cracks. By empowering lead tracking, businesses can prioritize and nurture leads based on their stage in the sales funnel, increasing the chances of converting them into customers.
Smart Analytics:
A CRM system offers robust analytics capabilities, providing businesses insights into their lead generation efforts. Businesses can analyze key metrics such as lead conversion rates, campaign performance, lead source effectiveness, and customer behavior patterns.
Smart analytics enables businesses to identify trends, measure lead-generation strategies' success, and uncover improvement areas. By leveraging these insights, businesses can refine their lead-generation approaches, optimize resource allocation, and drive better results.
A CRM system is indispensable for businesses seeking to enhance their lead-generation efforts. By leveraging its features, such as effective marketing campaigns, omnichannel interactions, comprehensive data management, empowered lead tracking, and smart analytics, businesses can significantly improve their lead generation strategies and increase their chances of converting leads into customers.
Kenyt CRM offers a powerful solution tailored to the needs of modern businesses, empowering them to streamline their lead-generation processes and achieve remarkable growth.
Take a step towards optimizing your lead generation efforts by implementing Kenyt CRM today and witness its transformative impact on your business success.