Traditional methods of lead generation and student enrollment in the education industry often rely on manual processes, which can be time-consuming and result in missed opportunities. Additionally, potential students expect immediate responses and personalized experiences. Institutions that fail to meet these expectations risk losing valuable leads and potential enrollments. This is where AI educational chatbots come into play, offering a solution that combines automation and personalization to streamline the lead generation and conversion process.
In today's digital era, the education industry continuously evolves, and institutions seek innovative ways to attract and engage students. One powerful solution that has emerged is the use of AI educational chatbots.
These intelligent virtual assistants are revolutionizing how educational institutions interact with students, enhancing lead generation and conversion rates. AI chatbots drive student engagement and enrollment like never before by providing personalized and instant support.
Implementing a chatbot for educational institutions has proven to be a game-changer, offering a seamless communication channel between students, faculty, and staff. Using a chatbot for educational institutions streamlines information dissemination, allowing students to access important updates, course materials, and academic resources effortlessly.
By integrating a chatbot for educational institutions, universities and schools can enhance student engagement, improve administrative efficiency, and foster a more interactive learning environment.
Key Benefits of AI Educational Chatbots for Lead Generation and Conversion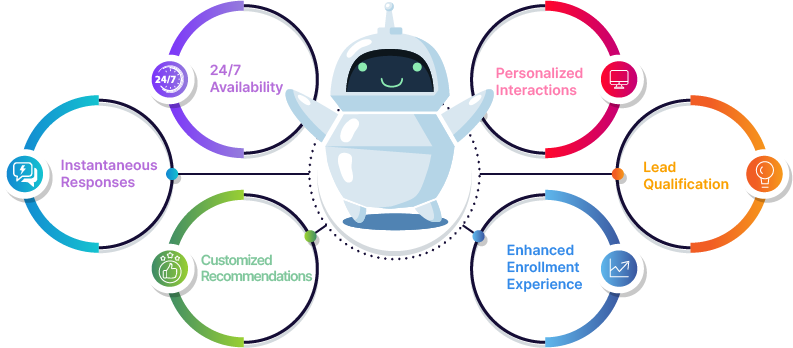 Instantaneous Responses: AI chatbots provide real-time assistance to prospective students, eliminating the delay in response and ensuring prompt engagement.

24/7 Availability: AI chatbots for education transform how educational institutions engage with students, offering intelligent and automated assistance around the clock.

Personalized Interactions: AI chatbots utilize natural language processing (NLP) to understand and respond to students' queries with relevant and tailored information, creating a personalized experience.

Lead Qualification: AI chatbots can gather essential information from prospective students, such as interests, academic background, and preferred courses, enabling institutions to qualify and segment leads effectively.

Customized Recommendations: Based on gathered data and interactions, AI chatbots can offer personalized recommendations on courses, programs, and campus facilities, guiding students toward suitable options.

Enhanced Enrollment Experience: AI chatbots streamline the enrollment process by providing step-by-step guidance, assisting with application forms, and answering frequently asked questions, making it easier for students to complete their enrollment.
How AI Educational Chatbots Drive Student Engagement and Enrollment
AI educational chatbots instantly respond to students' queries regarding course details, admission requirements, financial aid, and campus facilities, ensuring they receive accurate and timely information.

Students feel more engaged and valued when their questions are promptly answered, creating a positive impression of the institution.
Personalized Guidance and Support
AI chatbots leverage NLP and machine learning algorithms to understand students preferences, interests and career goals, offering personalized guidance on course selection, study pathways and prospects

By tailoring the conversation to individual needs, AI chatbots create a personalized experience that fosters student engagement and increases the likelihood of enrollment.

By leveraging AI chatbots for education, institutions can provide personalized recommendations, career guidance and tailored learning experiences based on each student's unique needs and preferences.
Not getting enough leads
from your marketing campaigns?
Try WhatsApp Blast by Kenyt
Engage with your customers
where they are.
Through virtual campus tours, AI chatbots can showcase various facilities, including classrooms, libraries, sports centers, and student accommodations, providing an immersive experience to prospective students.

Interactive campus tours enable students to explore the campus remotely and get a feel for the institution, boosting their engagement and influencing their decision to enroll.
AI educational chatbots can initiate proactive conversations with potential leads, reaching out to them with reminders about important deadlines, upcoming events, or new course offerings.

By nurturing leads through personalized messages and updates, AI chatbots keep the institution's offerings fresh in prospective students' minds, increasing enrollment chances.
AI chatbots are transforming lead generation and conversion in the education industry by enhancing student engagement and enrollment. A chatbot for education serves as an intelligent virtual assistant, catering to the unique needs of students, providing personalized guidance, and answering queries in real-time.
With a chatbot for education, students can receive instant responses to questions, access study materials, and receive timely reminders for assignments and exams. Adopting a chatbot for education enhances the learning experience, empowering students to take control of their education journey with accessible and interactive support.