According to recent studies on real estate market, personalized messages with real estate chatbot has shown a significant positive impact, with a 78% increase in conversion rates compared to generic messaging strategies.
In a dynamic real estate market, realtors and marketers constantly seek innovative strategies to accelerate property sales and connect with potential buyers effectively. Integrating artificial intelligence (AI), particularly ChatGPT, with popular quick messaging tools like WhatsApp has become a powerful combination for real estate professionals.
By leveraging AI-driven technologies and the widespread usage of WhatsApp, realtors can revolutionize their marketing efforts, leading to faster sales and increased customer engagement.
Recent studies have shown that AI-powered marketing solutions are reshaping the real estate industry, with 87% of real estate professionals acknowledging the importance of AI in gaining a competitive edge.
When combined with WhatsApp, which boasts a staggering user base of over 2 billion monthly active users, the impact on property promotion becomes even more significant. Here are several scenarios where WhatsApp marketing can significantly benefit realtors:
Instant Communication:

Realtors can leverage ChatGPT to generate quick and informative responses, ensuring prompt communication with potential buyers on WhatsApp, where instant messaging is the norm.

Virtual Property Tours:

By sharing engaging AI-generated prompts on WhatsApp, real estate marketers can entice buyers with virtual property tours, providing an immersive experience from the comfort of their mobile devices.

Personalized Recommendations:

AI-powered ChatGPT can analyze buyer preferences and generate tailored suggestions, enabling realtors to provide personalized property recommendations to potential buyers on WhatsApp.

Follow-Up Messages:

Realtors can use WhatsApp to send automated follow-up messages to interested buyers, keeping the conversation active and increasing the chances of converting leads into sales.

Multi-Language Capabilities:

ChatGPT's language capabilities, combined with WhatsApp's diverse user base, allow realtors to engage with buyers from various linguistic backgrounds seamlessly, expanding their reach and market penetration.

Appointment Scheduling:

Realtors can use WhatsApp and ChatGPT to automate appointment scheduling, making it convenient for potential buyers to schedule property visits and consultations.

Property Updates:

By sharing regular property updates, such as new listings or price reductions, via WhatsApp, realtors can keep interested buyers informed and generate ongoing interest in their offerings.

Feedback and Testimonials:

Real estate marketers can request feedback and testimonials from satisfied buyers through WhatsApp, building trust and credibility for their properties.
Getting Started with AI powered CRM Software has become easier than ever.

Explore our enterprise AI based CRM today.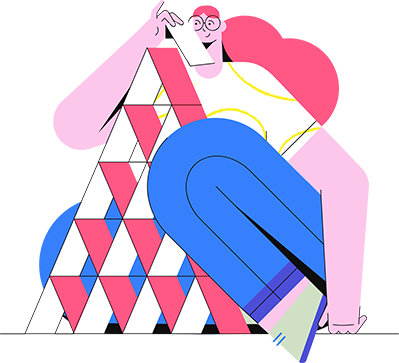 5 Prompt Examples Real Estate Marketers can use ChatGPT for WhatsApp Marketing
Here are 5 examples of ChatGPT prompts that realtors and real estate marketers can use to craft WhatsApp messages. You can simply copy paste and use them for your real estate projects' marketing.
Prompt: "Generate a personalized WhatsApp message to [Buyer's Name] for a spacious 3 BHK apartment with modern amenities, highlighting its features and offering to provide more details or schedule a visit."

Prompt: "Generate a WhatsApp message to [Buyer's Name] to schedule a visit to a beautiful 2 BHK apartment, mentioning its key features and asking for the preferred time of visit."
Asking for Video Feedback
Prompt: "Create a WhatsApp message to [Buyer's Name] asking for a video feedback of their recent property visit, expressing gratitude and emphasizing the importance of their insights."
Prompt: "Generate a cold WhatsApp message to introduce our latest development, an exclusive gated community with spacious 3 BHK apartments, emphasizing its unique features and offering more information."
Prompt: "Generate a WhatsApp follow-up message to [Buyer's Name] after a property visit, expressing gratitude, offering assistance, and encouraging further questions or inquiries."
Important: While using ChatGPT for WhatsApp Message Templates, always mention that the character limit is 1024 to avoid wrong responses from ChatGPT. 
Integrating ChatGPT into Campaigns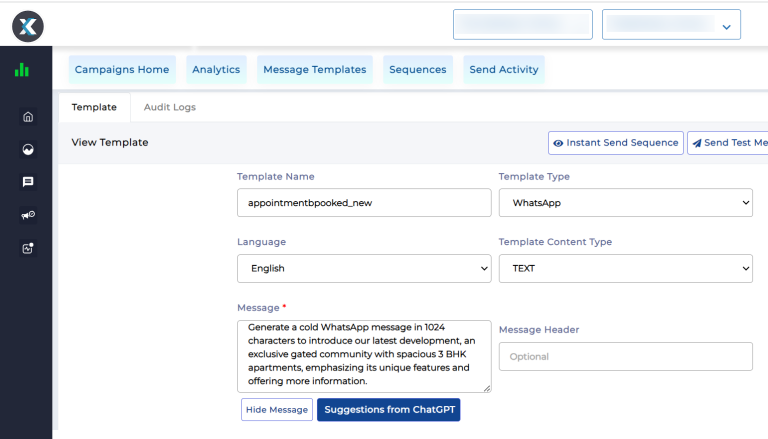 ChatGPT can be seamlessly integrated into campaign managers to enhance real estate marketing efforts by generating customized messages. One example is the Kenyt Campaign Manager, which utilizes ChatGPT's capabilities to automate the creation of personalized messages for real estate campaigns.
By inputting relevant data such as property details, target audience demographics, and campaign objectives, the ChatGPT model can generate tailored messages that resonate with potential buyers. This integration saves time and effort, ensuring consistent and engaging communication that maximizes the impact of real estate marketing campaigns.